Delivery notes confirm delivery for an order without payment collected. The delivery note can then be invoiced and Multiple deliveries can be added to single invoices as well. For more information on performing these you can reference our Delivery Note manual page.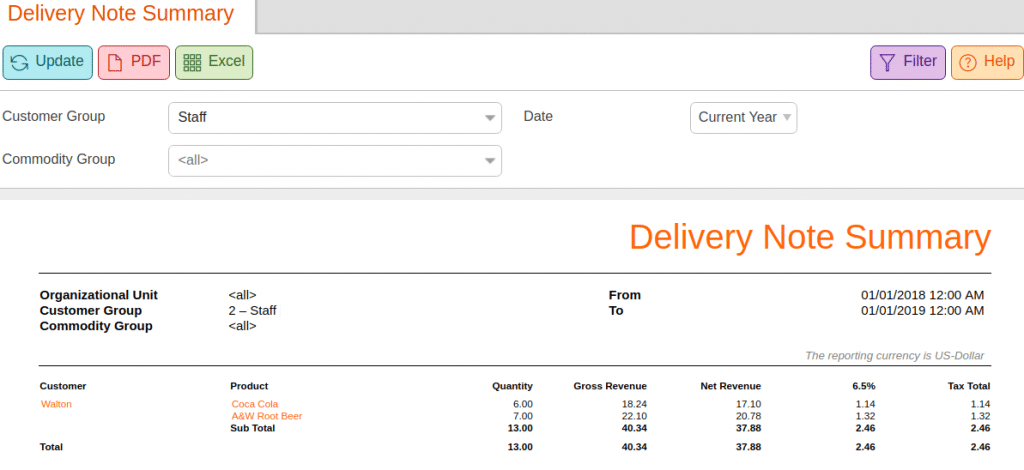 The Delivery Note Summary report can be found under the Evaluations tab. If you can not locate it there you will need to edit menu entries.
Once there you may filter this report by customer Group, Commodity Group, and Date range. Once you have made your selections click on the Update button to refresh your results.
Once the report loads listed below is the Customer's name, associated Products, Quantity, Gross Revenue, Net Revenue, any Tax amount entered is listed with the amounts for that tax to be taken out and a Total Tax amount is also listed.
Clicking on one of the Customers' names will give these additional menu options, Edit Customer, Customer Product Report, Customer Sales, Discount Report, and Receipts.
Moreover clicking on the listed product names will give these additional options, Edit Product, Discount Reasons, Product Report, Product per Weekday, Receipts, Stock History, and Stock Return Rates.
Finally, you may export this report into a PDF or Excel simply by selecting one from the top of the screen.