The tax report shows the generated sales tax per economic zone. Each tax rate is allocated to an economic zone (i.e. different cities, states or customer specific economic zone). This report will show you gross and net revenues as well as total tax collected in addition to other useful information. It is only important that the transactions considered belong to the same organizational unit. For help setting up Taxes for your business please refer to our Tax Set Up manual page.

This report is located under the Evaluations tab If you can not locate it there you will need to edit menu entries. This report may be filtered by Org Unit, and Date.
Once you have selected the organization unit you wish to view, click on Update. A report will be generated for that store.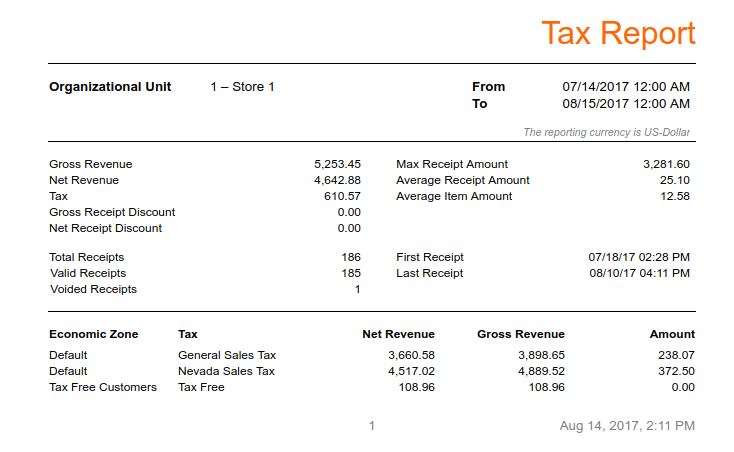 Gross Revenue: Revenue including Taxes
Net Revenue: Revenue without including Taxes
Tax: Total amount of Tax owed/paid
Discount: Total amount of Discounts applied
Total Receipts: Amount of receipts performed in Report timeframe
Valid Receipts: All Receipts that were finalized
Voided Receipts: Counts any Voided receipts
Max Receipt Amount: The highest amount paid on a Receipt from this report
Average Receipt Amount: The average amount paid across Receipts from this report
Average Item Amount: The average price calculates off all items sold from this report
First Receipt: Time of first Receipt used to gather data for Report
Last Receipt: Time of last Receipt used to gather data for Report
If you would like to export a copy of this report in either PDF or Excel format, click on the respective buttons.