The Cashier Balance Report shows you a list of your cashiers and how much revenue they have generated in the specified period and any deviation from the expected cash. You can review the procedure for this on our Balance Cashier manual page.
Running a Cashier Balance Report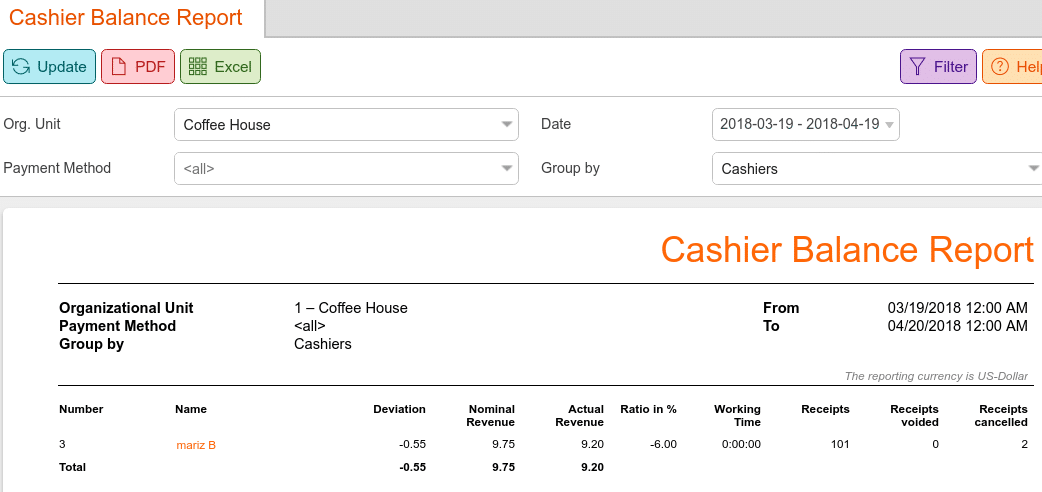 The Cashier Balance Report can be found in the Evaluations tab. If it does not appear there, click here to learn how to customize this section.
You'll also get an overview of the working hours of your cashiers when you are using the time management feature. The list can be filtered according to the organizational unit, payment method, and date.
You may also choose to group by Cashier or Point of Sale. Once you have made all of the desired selections click Update to refresh the results.
On this report, the information listed is the Cashier Number, Name, any Deviations, Nominal Revenue, Actual Revenue, Ration in %, Working Time, Receipts, Receipts Voided, Receipts Cancelled.
Furthermore, you may click on one of the highlighted cashier names for this additional menu options, Edit Cashier, Time Tracking Entries, Account Transactions, Balance Statements, Cashier Report, Discount Report, Payment Method Report, and Receipts.
Finally, you may export the report into a PDF or Excel simply by clicking the respective buttons.