The serial Number report lists any and all products with serial numbers and any relations with receipts. Ticketing Numbers will also be listed on this report as they are a type of serialization. For setting up Serial Numbers on products you can review our Serial Number Setup manual page.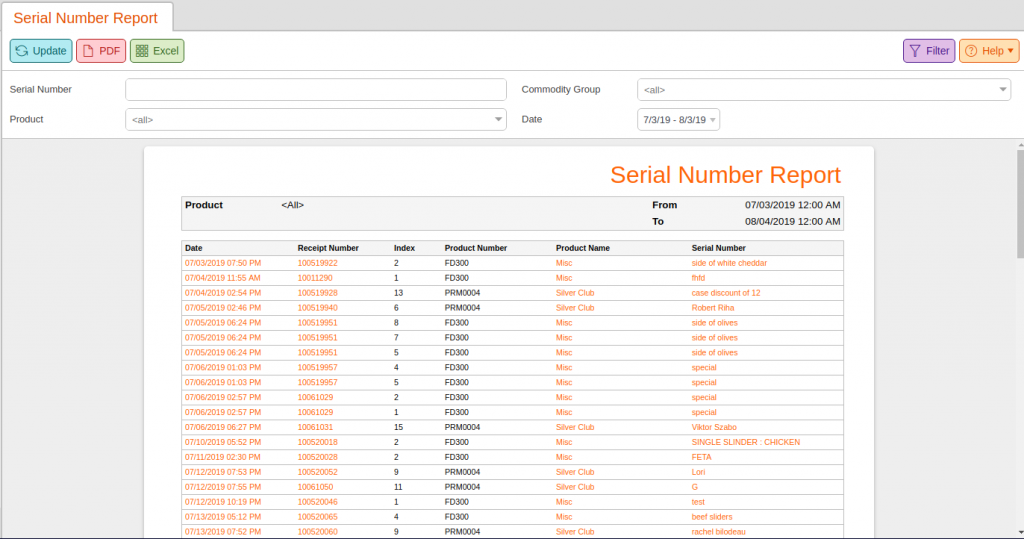 Start by navigating to Evaluations > Serial Number Report. If you can not locate this report there, please refer to our Edit Menu Entries manual page.
This report may be filtered by Serial Number, Product, Commodity Group, and Date. Once you have made your desired selection click Update.
Once the report loads it will list all Dates known for Receipt Numbers shown it will also list the index (line Item on the receipt). It will also list any and all Product Name and Numbers. If a product has more then one serial number it will be relisted but with a different serial number attached. This usually occurs if you order the same product from 2 different suppliers.
By clicking on one of the Dates listed you may load all Receipts for that day. Selecting one of the Receipt Numbers will take you to the Receipt page for more details on that specific receipt number. If you select one of the Serial Numbers listed, you will have an option to view a Serial Number Report linked to that specified number.
You can also select a Product name for these additional menu options, Edit Product, Discount Reasons, Product Report, Product per Weekday, Receipts, Stock History, and Stock Return Rates.
Finally, you can export your report into a PDF or Excel by selecting one from the top of the page.