The Prepaid Cards report gives you an overview of all your prepaid cards or vouchers sold. It is filterable by voucher number and period and shows you the vouchers by their number with original purchase date, purchase price, and current credit balance.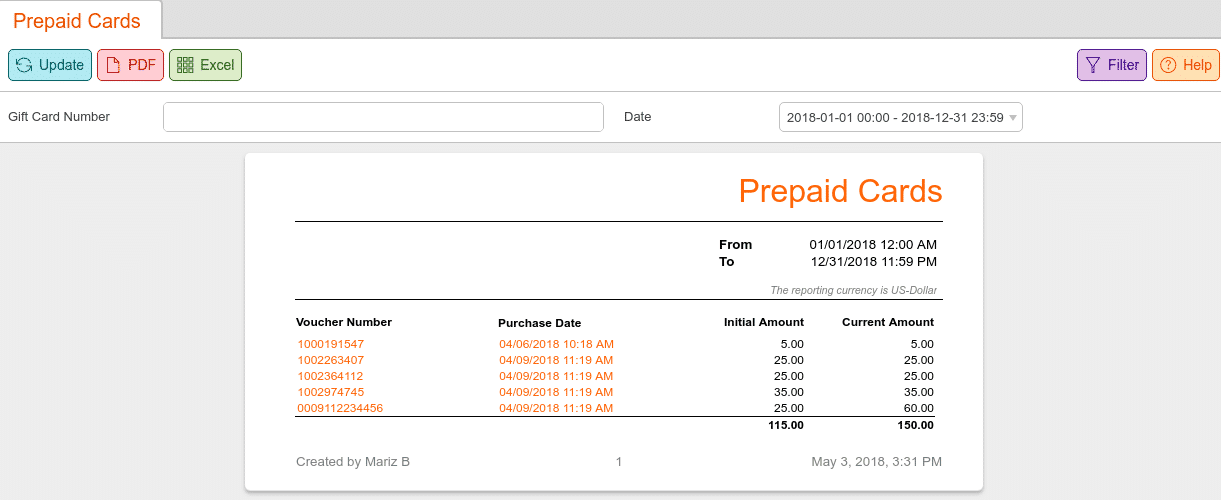 This report may be found under Evaluations > Prepaid Cards. If you cannot locate it there you will need to edit menu entries. Your Filter options for this report are Gift Card Number and Date range. Once you have made the desired selections click on Update to refresh your results. You can leave the gift card number blank to get a list of all cards used from the specified time period.
Within the report, you can select from the Dates listed to view the Receipts. You can click on the Voucher number to view Prepaid transactions.
Finally, you may export this report into a PDF or Excel by choosing one from the top of the screen.
To learn about setting up prepaid/Gift cards please refer to our Gift Card Setup manual page.
To learn about setting up charge accounts please visit our Charge Account manual page.