"The update will be performed Tue, 3/07/2022 12:00 AM PDT" While the cloud update is being performed the back office might not be accessible for up to 5 hours. This update will take place during the early morning hours after midnight Monday.
KORONA.studio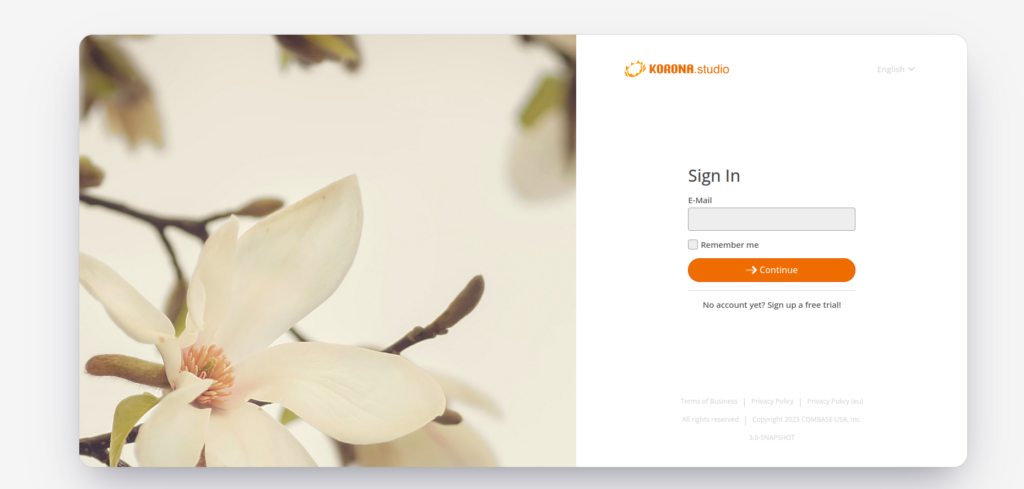 With our new release, the KORONA CLOUD back office has been replaced by KORONA.studio. The user interface is similar to the old back office but there a few things that have changed.
First you will be prompted to set a new password the first time you log in. Then you can log in again as you usually do. The logout, the package overview, the support request, etc. can still be accessed via the user name. This is now displayed in the navigation bar on the left.
In the dashboard, the widgets are no longer moved using drag and drop, they are now moved using the 'Change Order' Button.
For users with the Plus package, the global selection of the organization has moved from the header to the navigation bar. A new menu item via dashboard is used for this.
Support Request

You can now attach a screenshot with a support request from inside the cloud.
Commodity Group Exclusion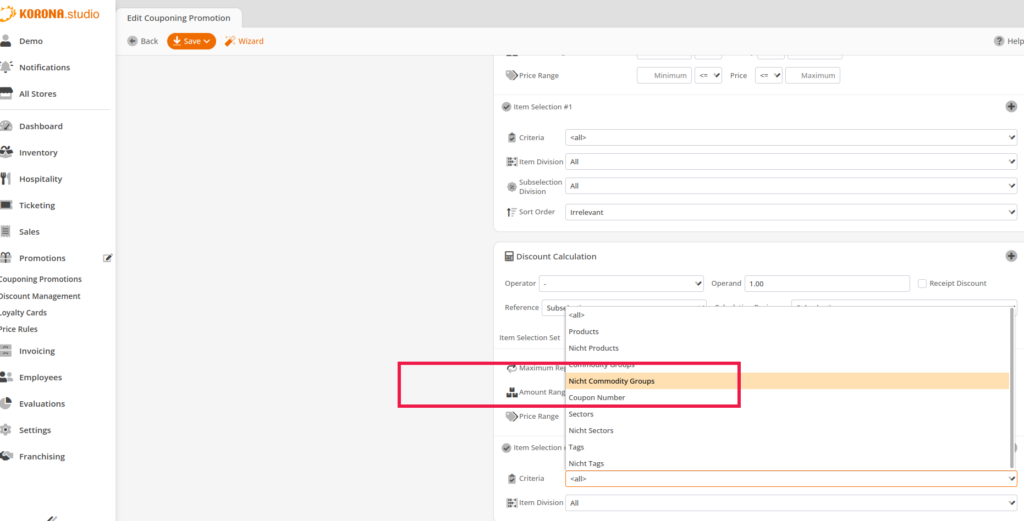 Now in Promotions you can exclude a commodity group from a promotion.
Banknotes on Payment Screen

You can now hide the bank notes on the payment screen thus enlarging everything else by ticking on 'Show only bank notes for cash payments' in the POS profile. They will still show for cash transactions.
Selecting 'Tomorrow' and 'Next Week' on Customer Orders

You can now use 'Tomorrow' and 'Next Week' as date filters on Customer orders. This also shows on both reports 'Customer Order Summary' and 'Detailed Customer Order Summary'.
New External System Call Triggers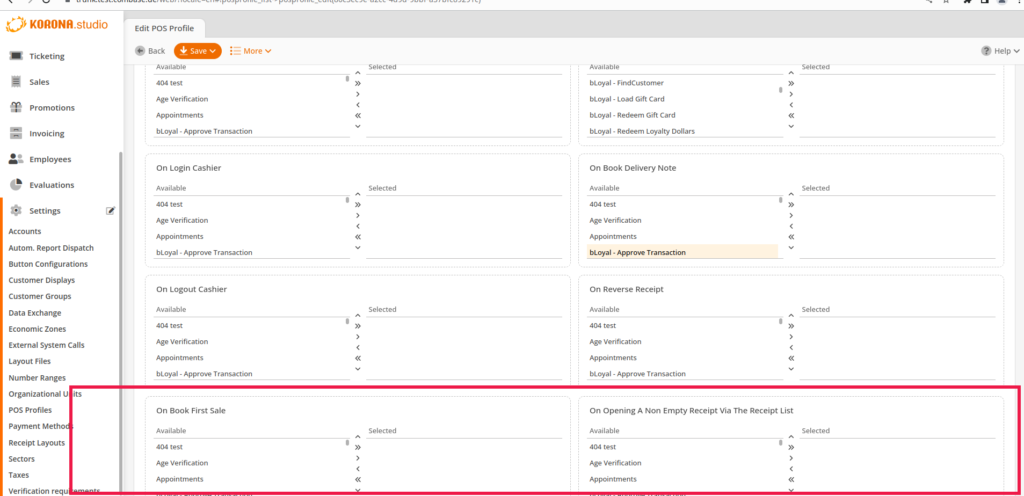 External System calls can now be triggered in the POS profile by 'Booking 1st Item' and 'Opening a non-empty receipt'.
Receipt Barcode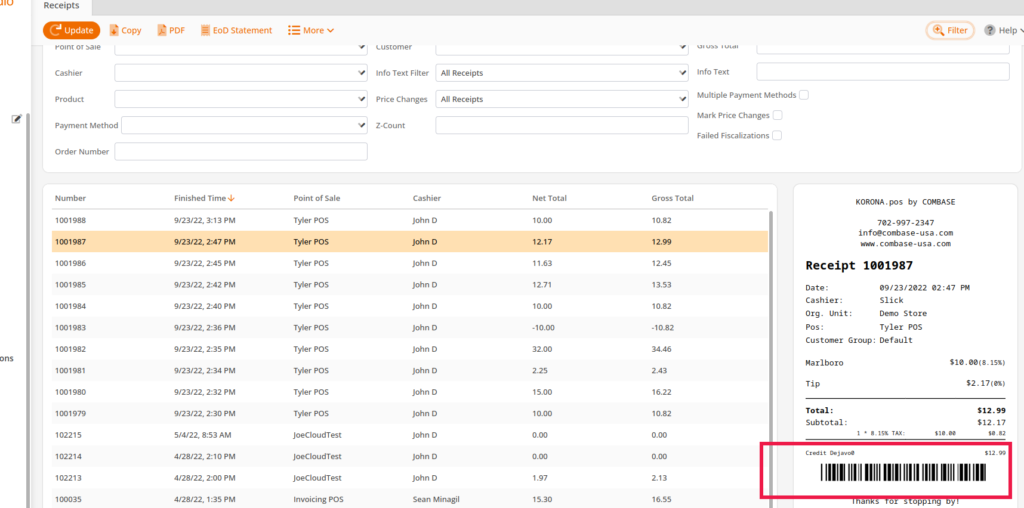 Receipts in the back office will now include the barcode for the receipt.
X Delete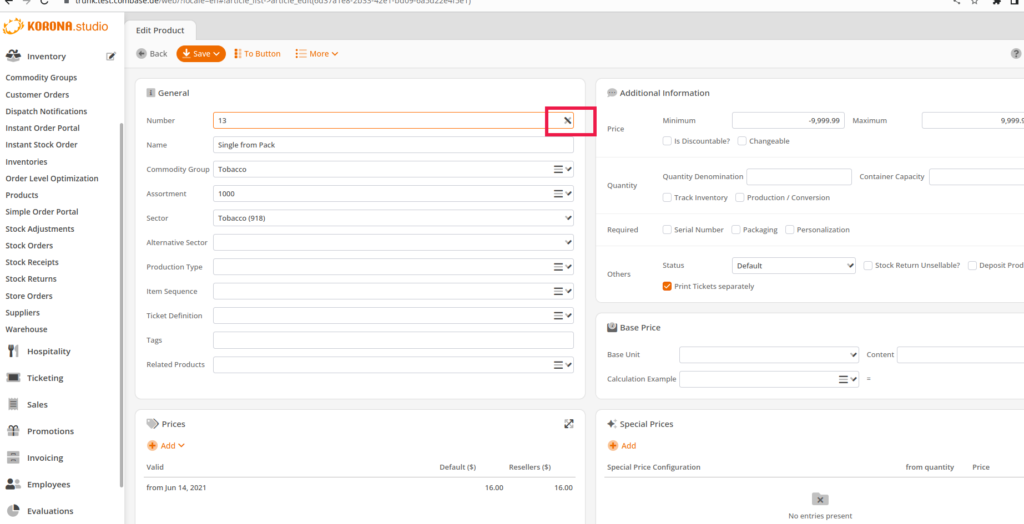 On text fields in the cloud a 'X' is displayed for easily clearing the entire field.
Button Configuration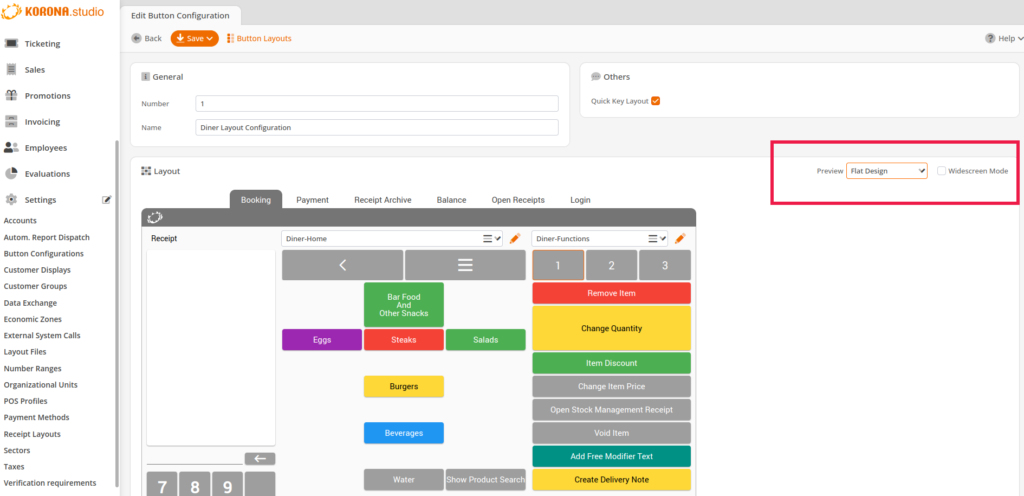 When configuring buttons in the back office the back office will now take into account the theme and widescreen mode. This configuration is on the right side.
Customer List Filtering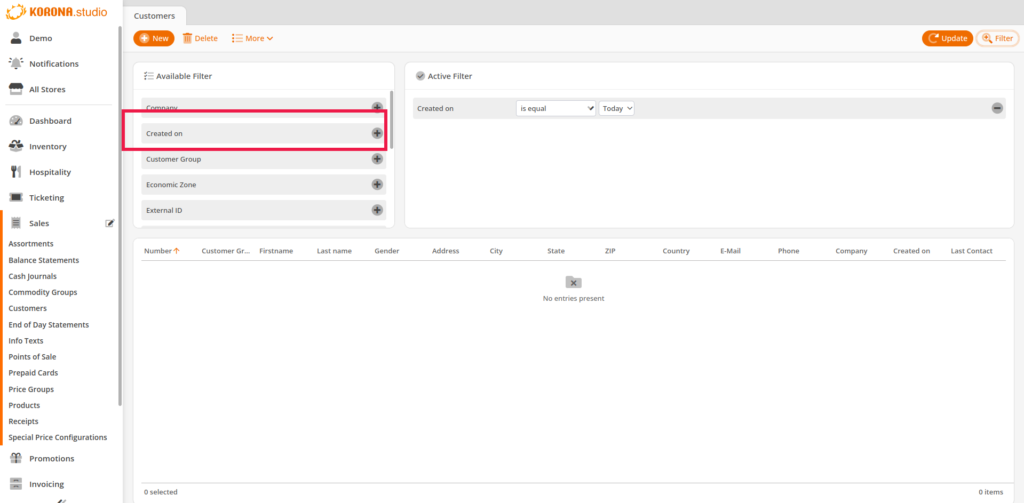 You can now filter by the creation date and date of last receipt for a customer.
Supplier Prices Export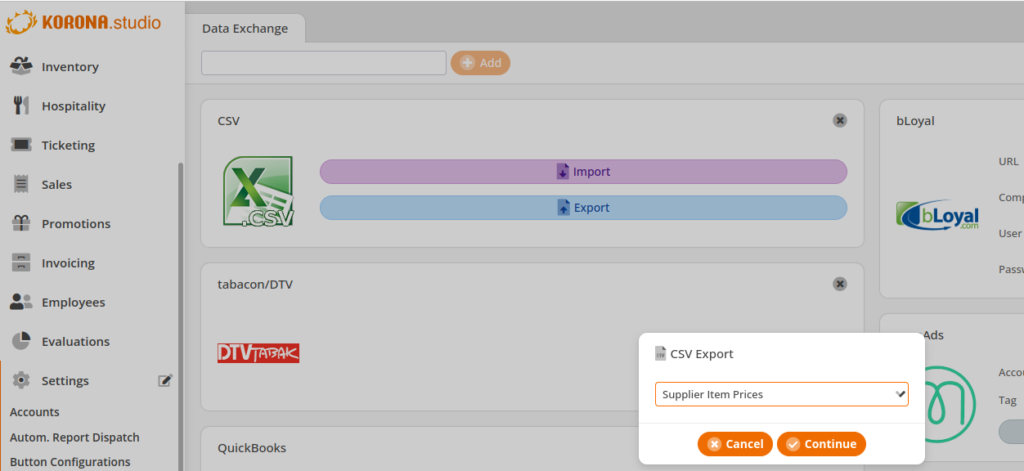 In Data Exchange you can now export your supplier information along with products using the 'Supplier Prices' export.
CSV/Excel Export Filtering from Products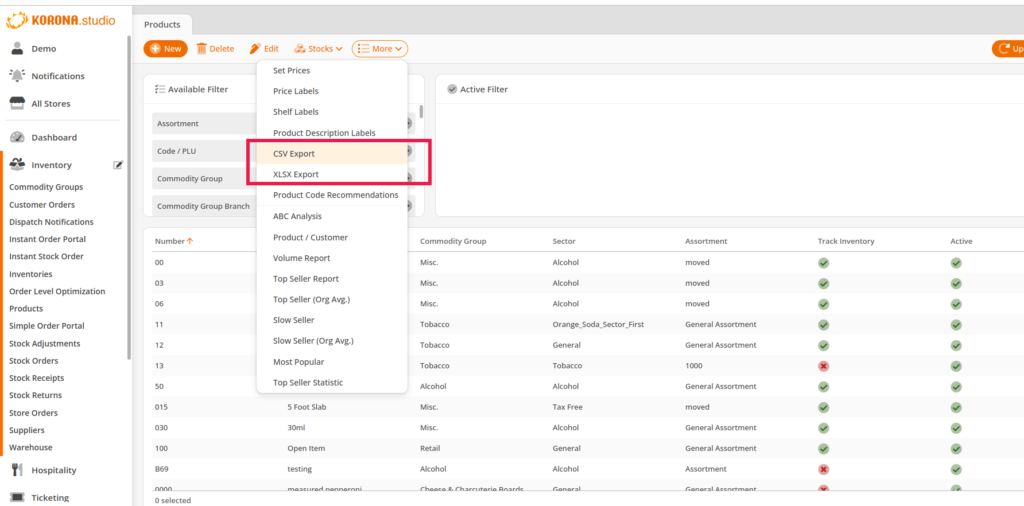 You can now specify products for export via filtering under Inventory>Products>Filter>More
Mass Edit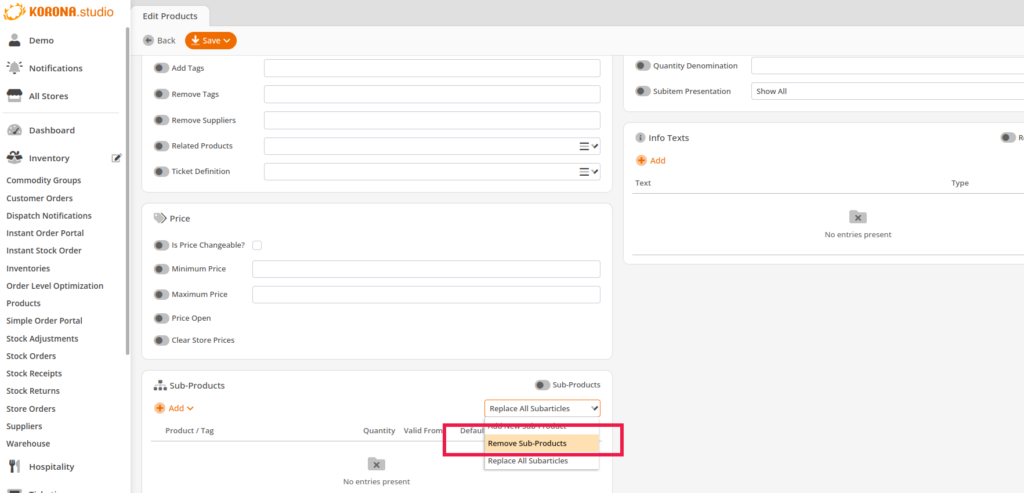 You can now remove sub products via mass edit.
Mass Edit Supplier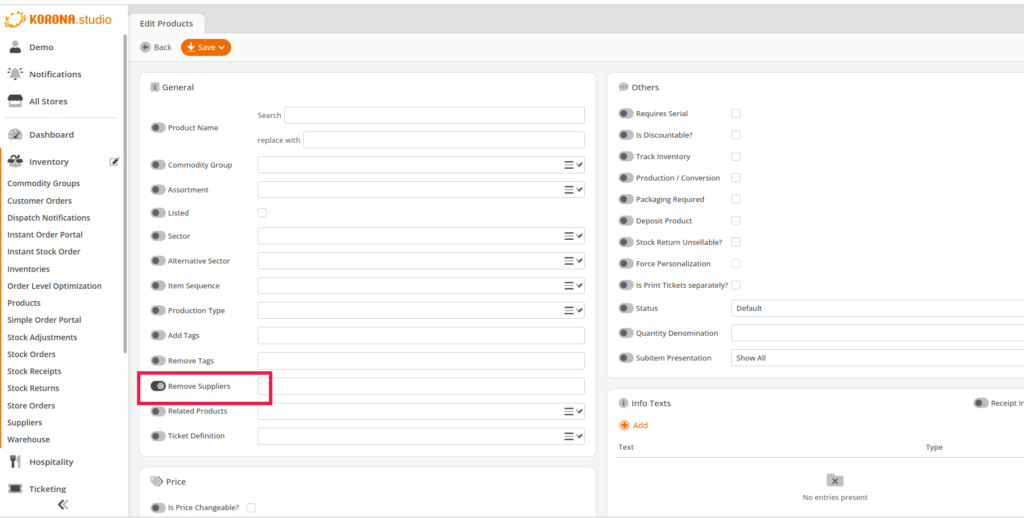 You can now remove suppliers via mass edit.
Labels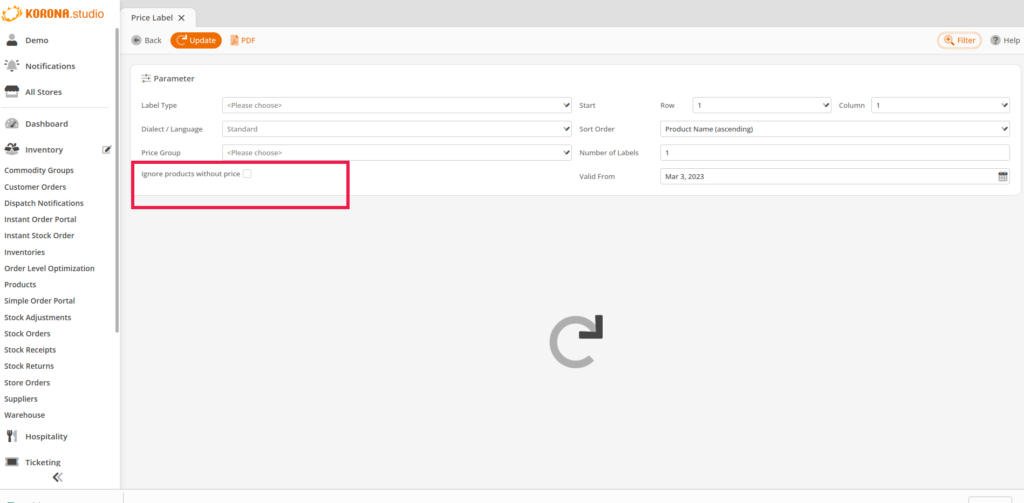 When printing labels you can exclude products without a price. To do so, check the box 'only products with price'.
Sales Lock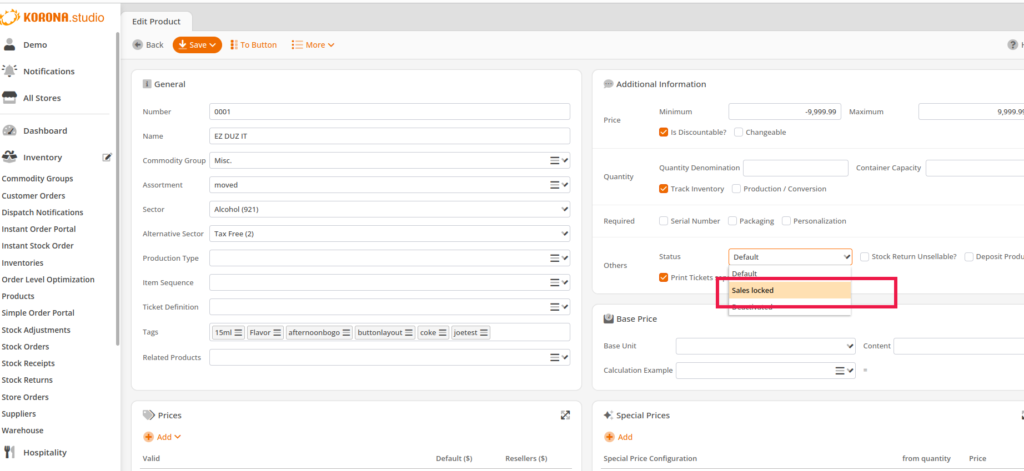 Products that should just not be sold at the POS anymore for any reason can be 'Sales Locked' under Additional Information for the individual product.
Product Filter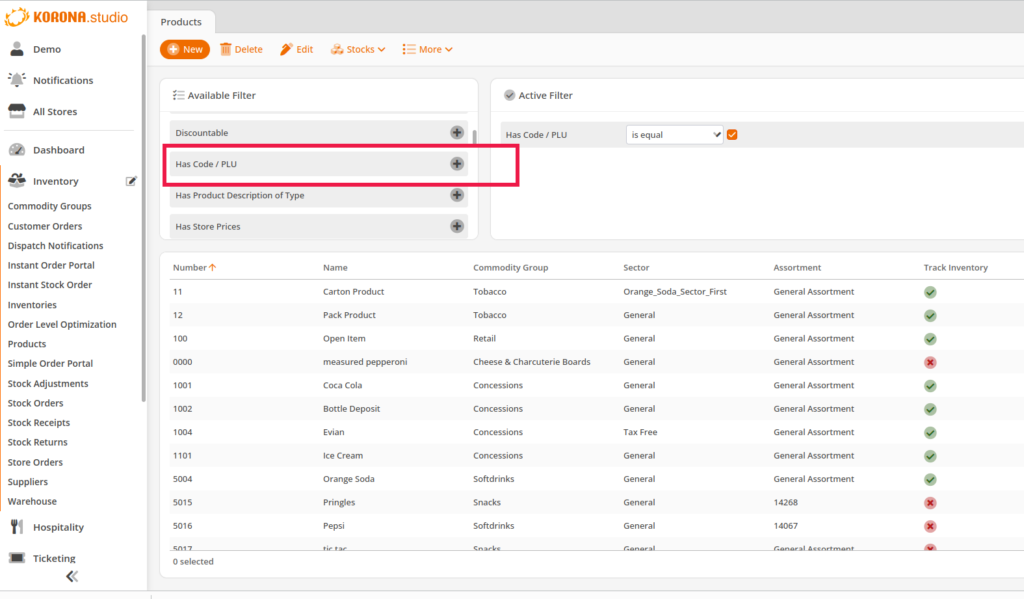 There is a new filter for products in regards to whether or not the product has a code that is available.
Delete Prompt

If you attempt to delete a product that is still available in a Promotion you are prompted to jump to the subject Promotion.
Retail Price Percent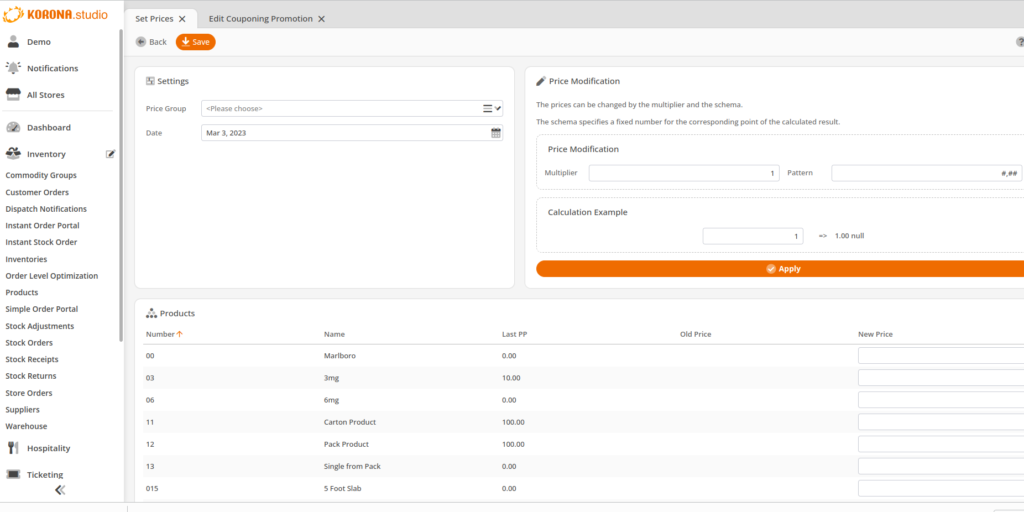 When changing a product's retail price you can now increase or decrease it by a percentage.
This is done when filtering for products using the Price Set tool. For more on it please see here.
Containers on Import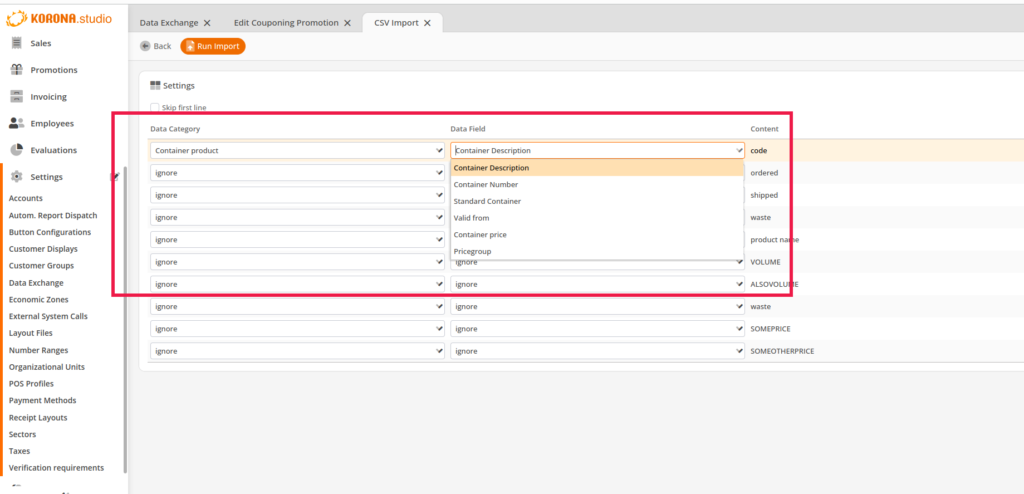 Container products can now be imported via CSV and Excel.
Bin Location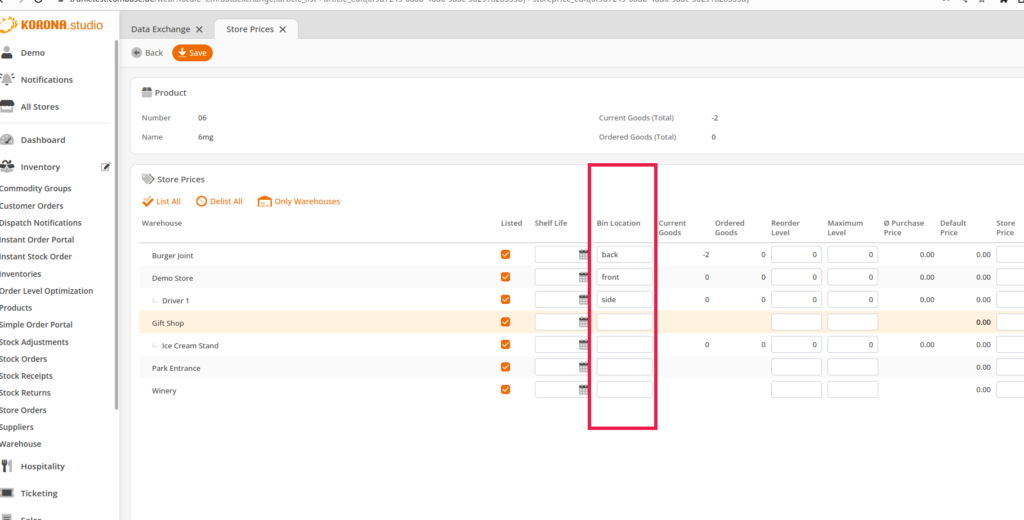 In addition to reorder level and maximum level, the shelf place for a product in the warehouse can also be entered.
Store Price Evaluation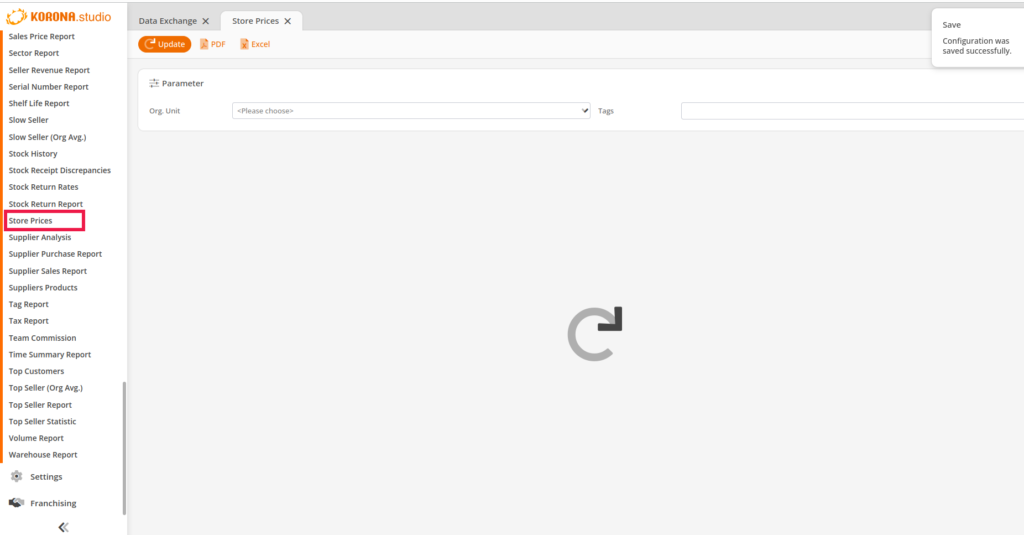 There is a new Store Prices Report that will list the store prices for all products in an Organizational Unit. This can also be exported to Excel for quick mass adjustments you can reimport in Data Exchange.
Management Report

You can now filter for 'Only sales with a price' on the management report to remove all zero dollar sales.
Stock Orders

On stock orders when you manually set delivery address only the manually edit will be shown as opposed to duplicating the delivery address twice.
Stock Receipt Set Quantities to Zero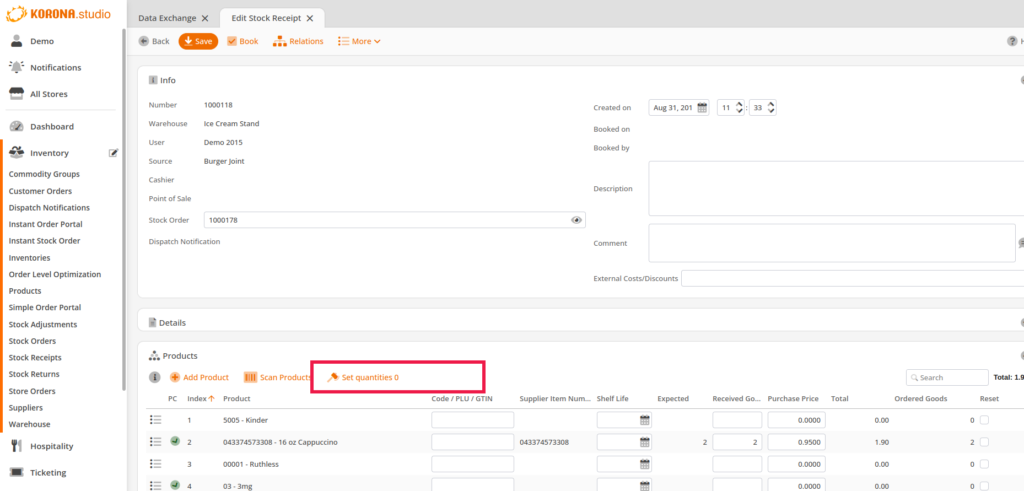 You can now mass set quantities to zero on a stock receipt, only products that haven't been changed since the last save will be set to zero.
Stock Orders Delivery Address

On stock orders when you manually set delivery address only the manually edit will be shown as opposed to duplicating the delivery address twice.
Stock Adjustment Reasons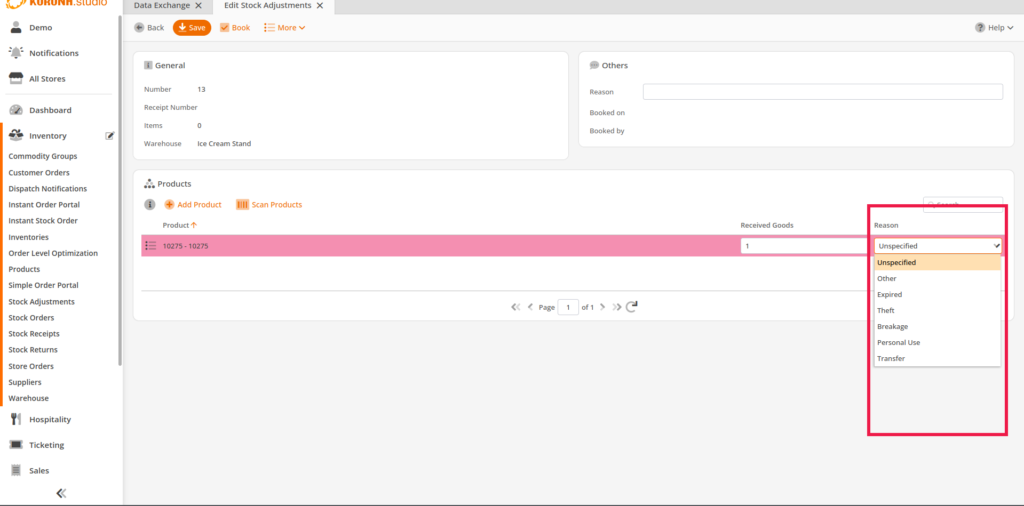 You can now select 'own use' and 'transfer' as well.
Customer Order and Order Number

When completing a customer order the receipt will set the customer order number to the order number to make it easily identifiable.
Customer Company
Customer company is now displayed on the receipt.
Increased Change Display

If 'Force Cash Drawer Closed' is ticked on in the POS Profile, the change due display is bigger.
Custom DOB

It's now possible to enter date of birth when creating a new customer from the POS.
Receipt Archive

Receipts are now shown in receipt archive by completion time as opposed to receipt number to make for a more orderly viewing.
Search Results for Customer Orders

By default this is set to 20 as a maximum. The Korona support team can change this number now if necessary.
Online Function Customer

A customer can now be created with the online function 'Customer'. If a number has been placed on the receipt entry line this number will be used for the Customer number. If no number has been entered the next available number will be assigned.
CheckOut Kiosk

The self checkout kiosk now supports special prices and promotions.