A dispatch notification occurs when the supplier has shipped, but the products have not yet been received.
To create a Dispatch Notification, navigate to Inventory > Dispatch Notification. If you do not see it there, you must Edit Menu Entries.
Once the Dispatch Notification page launches, click on +New. You may select between Creating a dispatch With Order or an Empty Dispatch Notification. If you choose With Order, you must select the Stock Order from the drop-down menu.
If you select Empty Dispatch Notification, you must also choose the Target Warehouse.
Next, specify if it is External or Internal. If you select External, then you will need to choose the Supplier. If you select Internal, then you will need to choose the Source Warehouse.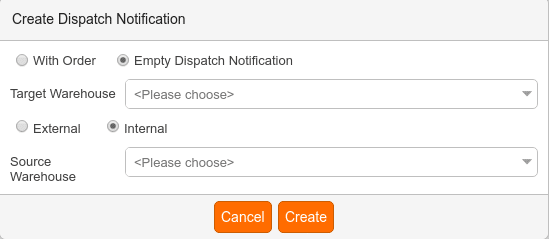 Once you have made all the selections, click Create to be taken to the Edit Dispatch Notification page here. You may enter all the products or adjust whatever may be there. You may also enter an Order Code, Product Code/PLU, and Quantity expected. Click Save and Back to view your newly created dispatch.
You may also create stock receipts from this page by clicking on the desired dispatch, selecting the … More drop-down menu, and clicking Book and Create Stock Receipt.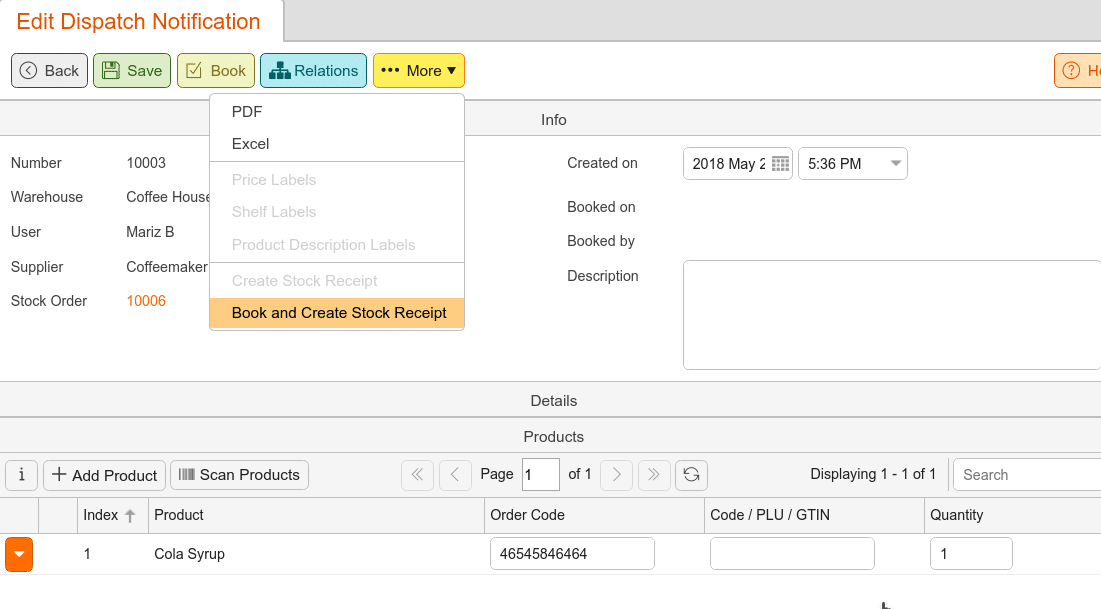 You may also create orders from Dispatch Notifications. To learn more about doing so, please refer to our Stock orders and stock receipt manual page.
Note: When you receive an email for your dispatch notification, it will be coming from noreply@korona.com