Commodity groups are a very important aspect of categorizing your products. An important thing to know about commodity groups is that you can nest commodity groups; allowing you to create sub commodity groups underneath each individual group. You can create as many subgroups as you wish, but keep in mind that over-categorization can quickly complicate things.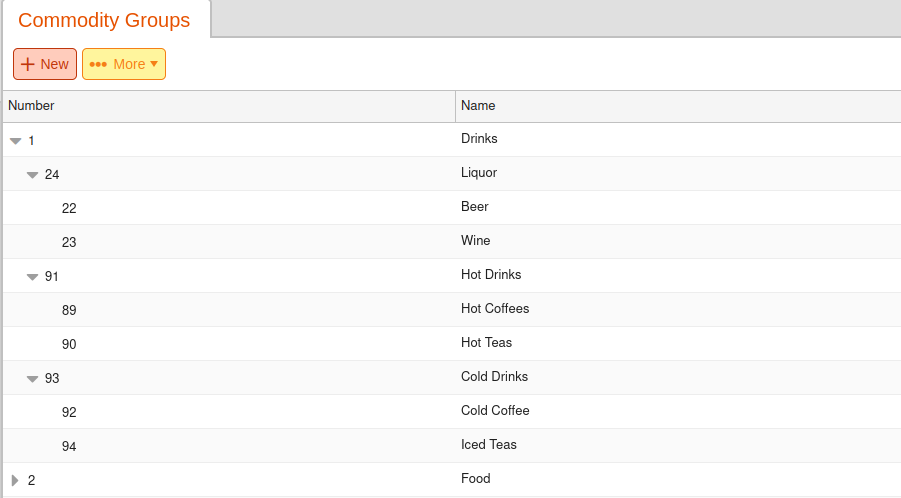 Many retailers with large product databases set up their Commodity Group structure using Department > Category. Merchants with smaller product databases usually stick to a flat structure.
In your KORONA.pos Cloud back office you can review and manage your Commodity Groups under the Inventory tab. You can use the New button to add a new Commodity Group. The only required setting is the commodity group Name. The Commodity Group Number is auto-generated, but can be changed or assigned manually.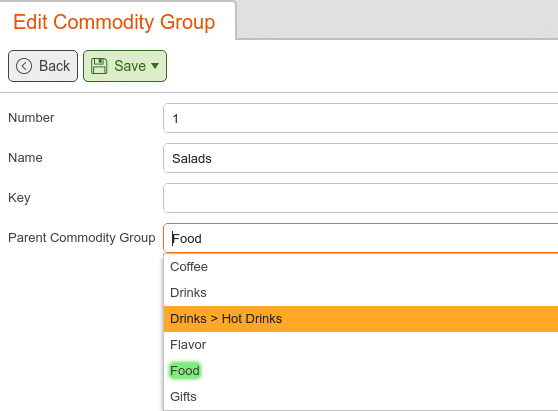 When you create your Commodity Group structure it is recommended to start with the top level groups.
To create sub commodity groups you just have to set a Parent commodity group. The Parent commodity group can also be changed for existing commodity groups.
The commodity group list displays your commodity group structure as a tree. A > symbol in front of a commodity group indicates that this commodity group has sub commodity groups. By clicking the > symbol you can expand the tree item and view the sub-items underneath.
Once you have created your commodity groups, you will be able to assign individual products to them by navigating to Inventory > Products > *Select the Product* > Edit. On the Edit Product screen locate the Commodity Group drop-down menu and select the desired one. Once done, click Save. You may also choose to mass apply the commodity group by using the product filters for more information please visit our Mass Search and Edit Feature manual page.
*Note: In order to see the change at the POS, you will need to retrieve master data.