Customer Display Setup has changed and it is now its own individual section under the Settings Tab.
Note* This section only aids in the customization, However, the customer display will still need to be configured under the POS profile section, to learn more Please click here. 
Customer Display has changed in the Korona back office. The Customer Display may now be found under the Settings tab. If you cannot locate it there you will need to edit menu entries.
Navigate to customer display and Click +New from the top of the screen. On the following page, you may enter a Number for the layout, and give it a Name. Next, Select the screen you would like the images and texts to Display on from the drop-down menu. You may change the Font Size to your liking simply move the slider to manipulate the size, Bigger/Smaller is shown on each end to help indicate where you are on the font size. Below you have the option to change your Font Color. 
On the right-hand side is a visual aid to guide in selecting the placement for the text and image shown on the customer screen. Below each layout is a small circle. Tick the circle below to select the screen layout that is preferable to you. Once you have done so, click Save from the top of the screen to save all your progress.
Located beneath is a Message Textbox, a text may be entered in the fields titled Welcome (Message will display during business hours) and Closed (Message will display during non-business hours). The"Booking" image will appear at any time of booking at the POS. Once you are satisfied with your selections, make sure to click the Save button from the top of the screen.
Below this section you may choose an Image to Upload, These images will also display along with the text above during regular and non-business hours.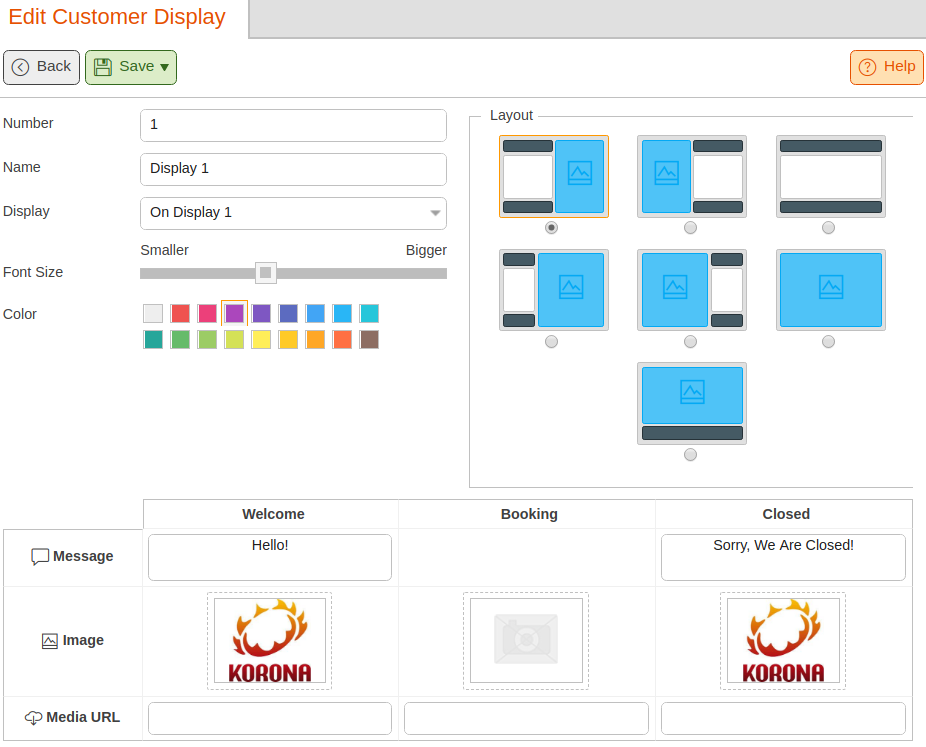 To do so simply click on the Empty Picture Area and select +Upload Image, Select Browse to look for the image once done click the Upload button. When you are satisfied with your selection, click Apply.
Finally, you may add a Media URL (website) that will be available for customer viewing during checkout.