Sending Request to Franchisor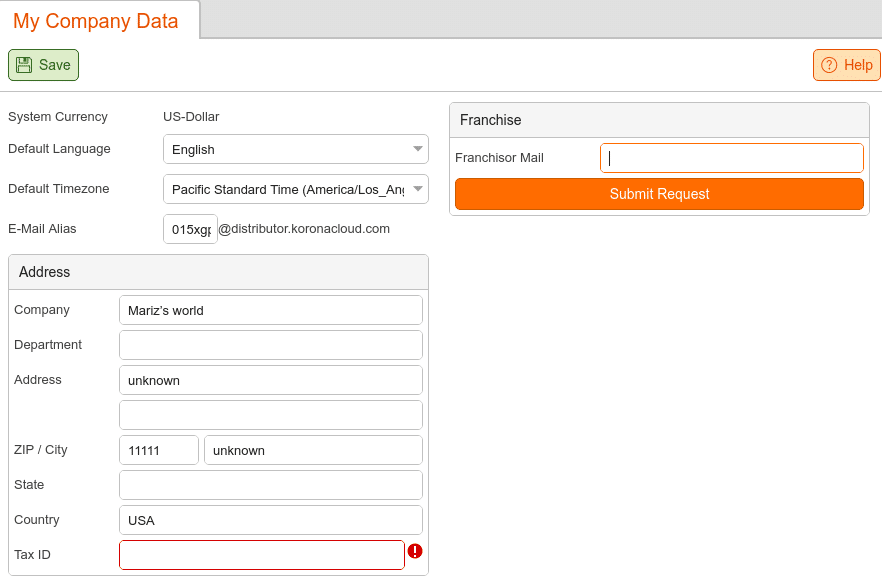 To add a franchise to your organization, the franchise will need to put in a request. To do so, navigate to the name drop-down menu at the upper right-hand corner of the Korona.Cloud main screen. Next, click "My Company Data". Once the page launches, locate the Franchise tab and enter the franchisor's email in the "Franchisor Mail" field. Once done, click "Submit Request". A request will then be sent to that account and the franchise box should update with the franchisor name and the date/time of the request.
You may also cancel your request at any given time simply by clicking on "Reject Request".

Accepting Request from Franchise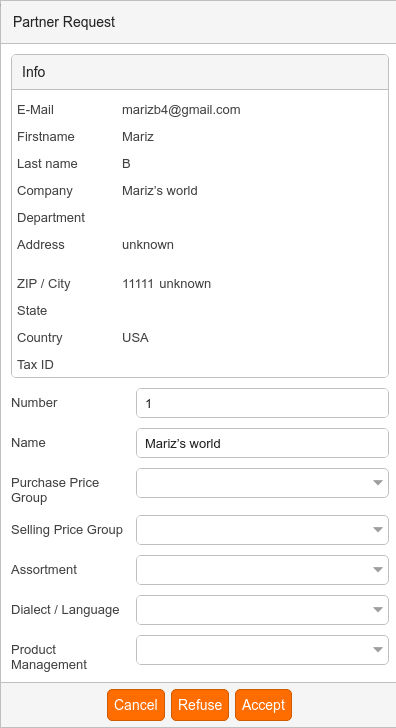 On the franchisor side, you will need to navigate to Franchising > Partner Requests. Once the page launches, select the request and click Edit at the top of the screen. A Partner Request dialog-box should launch.
Under the Info tab, all of the company information should be listed that includes Email, First Name, Last Name, Company, Department, Address, Zip/City, State, Country, Tax ID.
Below that you may enter in a Name and Number for this organization. The Purchase Price Group is the price this organization will be buying stocks from the franchisor for. This will need to be set up prior to filling in these fields. To learn more about prices please refer to our Creating and Assigning Price Group manual page. The Selling Price Group is the set price group this franchise will be selling their goods for.
You may choose to only make a specific Assortment available to this franchise. The assortment would need to be set prior to setup. To learn more about setting up assortments please visit our Create Assortment manual page.
Next, to the Dialect/Language, you may select a specific language to be used for this organization. To learn more about setting up language please refer to our Dialect/Language manual page. Next, to the Product Management tab, your options are "Self Governed" (managed by employees from within the organization), or "Managed" or controlled by you (the franchisor).
Once done click Accept, you will notice that the request has disappeared to see your franchise you will need to navigate to Franchising > Franchisees. to learn more about this section please visit our Franchisees manual page.