Using this widget allows for a quick view and adjustment of any defective z-counts straight from the dashboard. The z-count period is defined by when a business opens to when it closes.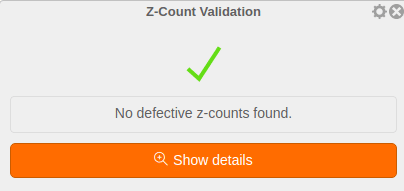 From your dashboard, locate the Widget drop-down menu on the upper left-hand corner of the page. Select Z-count validation from the menu. The widget will now be added to your dash.
Locate the widget and click on Show Details. On this page, listed are the defective z-counts with a detailed description in parentheses to identify the issue. If a 0 is reflected in this column, the Z count does not exist.
Finally, The last end of day statements date is listed as well.

by selecting a Z-count and clicking on Verify, this will give a current and previous status of the Z-counts.
You may also click on End of Day Statements to view all end of day statements for that specific Z-count. Moreover, there is an option to view Receipts for a specific Z-count simply by selecting the z-count and clicking on the respective button.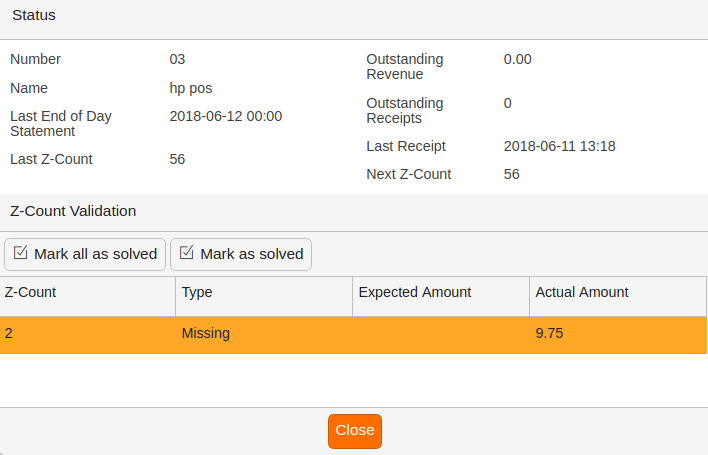 Clicking on the Show Details magnifying glass will give a status box, listed are the Number, Name (POS), The last end of day statement, Last Z-Count, Outstanding Revenue, Outstanding Receipts, Last Receipt, and the Next Z-Count.
Beneath that listed are the Z-counts, Type, Expected Amount, and Actual Amount. You may select one of the listed z-counts and Mark as Solved or you may choose to Mark all as Solved. Once done click Close. The solved Z-count should now be removed from the list.