The Inventory Difference List provides an insight into the difference in quantity and values between nominal (unadjusted) goods and actual goods in a given time period.
Note this is not to be confused with Difference Check which is located under the evaluations tab. To learn more please visit the difference check report manual page.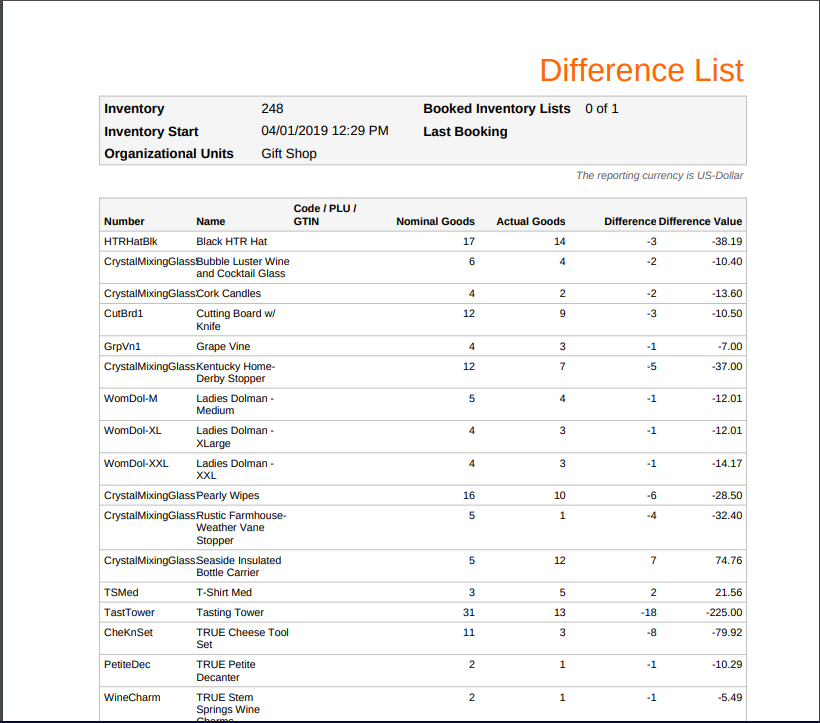 The Inventory Difference List may be accessed by navigating to Inventory >Inventories >*select Inventory*> Edit > More drop-down menu > Inventory Difference List PDF/Excel.
At the top of the report, listed will be The Inventory Number, Inventory Start Date, Organizational units, Booked Inventory Lists, and last booking Dates.
Below that, the report lists the Product Number, Name, Code, Nominal Goods, Actual Goods, Difference, and Difference in Value. it will also give a Total of value on the bottom right-hand side.
*Note: You can only view this from completed inventory counts, for more information on completing Inventory Counts you can reference our Inventory Count Manual page here.