Creating Entry Gates

The Korona System has the ability to utilize entry gates for your museum or amusement park.
To create an entry gate, You can navigate to Ticketing > Entry Gates. This will take you to the gate overview screen where you can create and edit your gates.
Click on the +New button to be taken to the Entry Gate creation screen.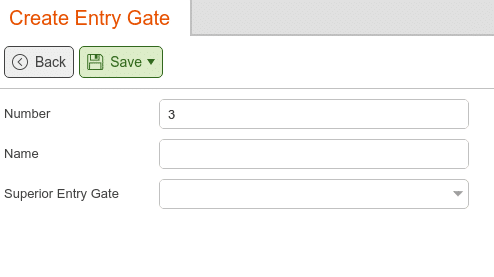 Assign the gate a name and number. If needed, you can make it a sub-gate by assigning it to a superior entry gate. You would only need to have multiple gates of you wish to separate who can use what gate. Example, you can set up a separate VIP Entry Gate so they can get in faster without waiting in line. You can have multiple gates if you had a large amusement park, whereas if you had a small museum with only one way in or out, you would only need one gate.
Once you have set up your gate, save it by clicking the Save button at the top of the screen.
Your gate can now be used to check in guests with valid tickets that are set up for that gate. These parameters are determined by the ticket definitions assigned to those tickets. Information on ticket definitions can be found on the ticket definition page of our manual.
Assigning Entry Gates to POS Terminal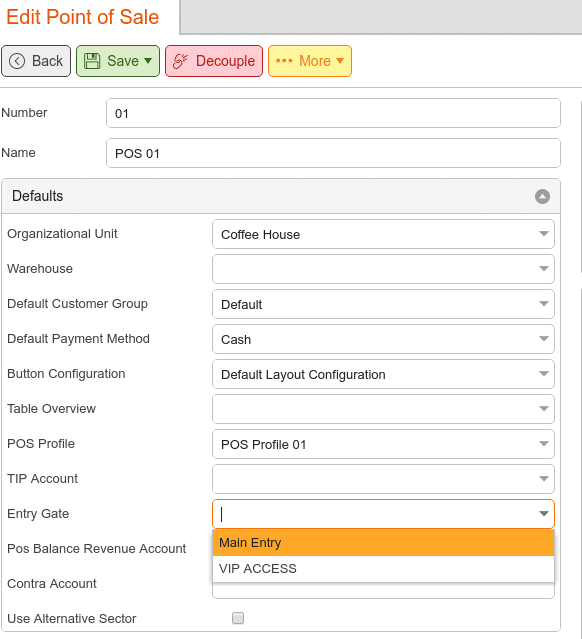 POS Terminals can also be set up as entry gates.
To assign an entry gate to a terminal, you will need edit that Point of Sale. Go there by navigating to Sales > Points of Sale. Once there, click on the point of sale you want to assign a gate.
To assign the gate to that point of sale by selecting it from the Entry Gate drop-down menu. Keep in mind, when you assign your entry gate, it only effects the redeeming and checking of tickets at the POS. The selling of those tickets is affected by the ticket definitions effected by that gate. Information on ticket definitions can be found on the ticket definition page of our manual.
Once you have assigned the gate, click on the Save button. Make sure you retrieve master data on that POS.
*Note: You will need Korona.entry for this to work properly. Contact a Korona representative for further information.
Now that POS terminal will serve as an entry point for your museum or amusement park.