"Download the Windows remote support tool."
"Remote Support"
If you are having issues opening Korona in order to activate remote support, or you need support in the cloud download and run this small file. Contact support with the ID and Password and we will be able to help you.
Our support team has you covered if the KORONA manual does not provide the information you need:
Questions regarding usage and setup
Troubleshooting
Software Bugs
If you have questions regarding a new POS system, add-ons or POS hardware please contact our sales team at +1 (702) 997-7672.
E-Mail Support
In your KORONA.pos Cloud back office you can find the welcome menu in the top right corner.
By selecting "Support" you will get to the support contact form. This will guide you through a few basic questions which will help our team handle your case quickly and efficiently.
If you do not have access to the back office you can also contact support@koronapos.com via email. Please make sure to describe your problem in detail and also mention your login e-mail address. Please do not include your password. Our team will never ask you for your password!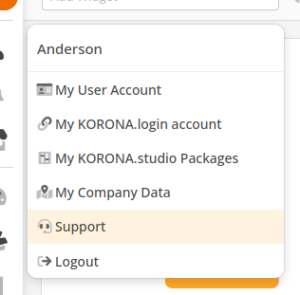 Activate Remote Support
Sometimes it is helpful for our support team to access your POS terminal in order to show you certain procedures, troubleshoot or resolve problems.
KORONA.pos has an included remote support feature which you can activate at any time by touching or clicking the KORONA logo in the top left corner of your POS.

This will take to the KORONA info page which provides general information about your POS.
In the bottom tool bar you will find a large button right in the middle which says "Activate Remote Support". By clicking this button you will activate the remote support function.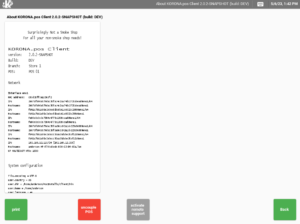 Windows-based POS terminals will open Teamviewer. In order for our support team to access your POS, you need to provide your partner ID and password.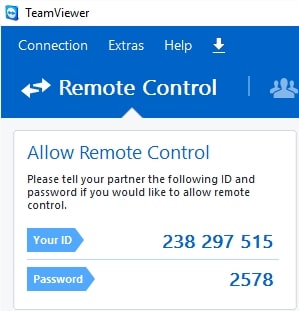 In the event that your Teamviewer does not provide you with a password, we recommend downloading a new version of Teamviewer by hitting Windows support in the top right hand corner of our manual page.

Linux based POS terminals will provide you a 4 digit console port. If you provide this code to our support team we will be able to access your POS and help you out.